Ashley Logsdon, Relationship Coach
Ashley Logsdon is Paradigm Shifter and Relationship Coach. She pushes the limits of your comfort zone and challenges you to create the family you WANT to come home to... by looking inward first.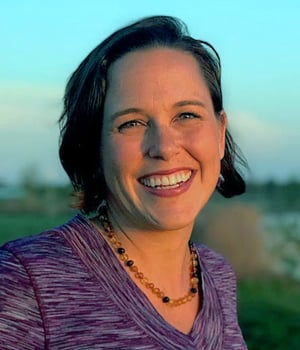 What is your coaching niche? What area do you feel most passion and/or feel you can make the most contributions?
As business owners, entrepreneurs and other business professionals, we spend so much time and energy in the professional arena. We look at worthwhile investments, goals, mission statements and timelines. Yet how often do we stop and set the same intentional focus within our personal life?
Over the past 15 years, I have worked with entrepreneurs in building their business, and as I have spoken on the importance of understanding personality styles in business, I inevitably was the one at the back of the room afterward, talking with couples about how to navigate their marriage in the throes of business building. It didn't take long for me to realize the significance of what I was doing "on the side", and I shifted my focus from simply business to diving into that which makes it all worthwhile - family.
My years of writing as "Mama Says Namaste" quickly moved into a full business, offering resources and coaching to families. As a marriage and family coach, I take families from chaos and reaction-mode to living a life of intention, not waiting for "one day", and really identifying the strengths of each person to create a truly family-centered home. I work with parents to harness their strengths, identify their triggers, and get proactive about writing the family story they want where everyone thrives.
Through my podcast, blogging, coaching, and "personality "snapshots", I provide tools and action steps to aid families in creating a life they all love to come home to."
How has your past life in business, parenting, marriage and life learning prepared you for your coaching career?
My father, Dan Miller, is an author, speaker coach, and founder of 48Days. Through working with him in his business over the past 15 years, I have had the opportunity to wear many hats, learning to navigate my own strengths as I taught others to do the same. My main area of focus in his business has been around the DISC Personality System - both in the administration side as well as the coaching/teaching aspect. In addition, I created a Coaching Mastery Program unlike any other, adding DISC Certification, weekly mastermind calls, and 1-1 coaching sessions to not only build 48 Days-Certified Coaches, but helping them create successful business before they even finish the program.
This, along with my degrees both in Psychology and American Sign Language Interpreting, has really equipped me to utilize DISC in a powerful way. What I found is that there are so many ways to utilize what I learned through my degrees to better understand and navigate people through effective communication and connection. We are all, in a sense, interpreters of others. It's how we perceive and receive from others that really determines our own interpretation. So understanding personality styles has been an incredible way to connect with people by meeting them where they are and speaking in a way that resonates with them.
Becoming a parent and navigating the ups and downs of three young children...and learning that it doesn't matter how many years of preschool teaching, nannying, being a camp counselor, babysitting and more - nothing fully prepares you for parenting until you have your own children.
I speak and coach on topics I've journeyed myself - personality styles, marriage & intimacy, parenting, alternative education options, seeking adventure together, and minimalism. As I grow in our own family story, I am thrilled to share what insights we gain with others as we all strive to thrive.
How do you use Behavioral Analysis in your coaching? Do you have a favorite PeopleKeys product and why?
I utilize my Namaste Personality "snapshots" as the foundational piece for every coaching package I offer. Knowing the personality styles allows me to deep dive in to how to motivate and communicate in the most effective way for family success. I call them "snapshots" because, like a family picture, you want to see people in their best light - and the personality snapshots allow you to move deeper than the surface to allow their personality strengths to shine.
I also love utilizing the Children's Reports and helping people understand how to utilize a personality test for kids. I help parents navigate their children by not just running to a band-aid solution or reaction, but seeking to understand the underlying fear that may be triggering the behavior.
Some things my clients are saying:
"I've loved learning more about each of our family members through the Family Portrait personality snapshots and follow-up coaching! This has been truly insightful, and we have a number of action items that, though most are small changes, I know will have the potential of really increasing our satisfaction and feelings of peace within our home. Thanks Ashley!" ~ Erin Petersen

"The reports themselves help to understand each other on a deeper level and help to show how to work with each other. We are all different and have different ways of doing/seeing/feeling things. We have 6 people in our house and we are ALL DIFFERENT and we all need to understand that is ok. SO far, the profiles have allowed us to come up with plans for our 2 oldest (with their help) and they are beginning to thrive again--especially knowing they are unique and were able to participate in the process." ~ Dustin

"As a mom who struggles with supporting my children on their own individual journeys while maintaining a thriving family life, I found Ashley's coaching to be incredibly valuable. She coached me through my strengths and weaknesses and guided me to better understand what may trigger stress for me and ways I can reduce that so I can be the very best mom and wife for my family. I highly recommend her whether you feel you are struggling or not and I'll be recommending her to my families at Acton Academy." ~ Laura Sandefer, Founder, Acton Academy

"We have just started our snapshots for our family and so far they have been fabulous. Not about labeling at all but understanding yourself and other family members so you can communicate and function better as a family. Highly recommend this." ~ Dustin Lewis

"The Namaste Personality Snapshots really opened up the doors to major insights into how my family ticks. I was able to pinpoint the reasons why my child responds in a certain way, and it helped build a deeper understanding and connection with my husband. Thank you for such a powerful resource!" ~ Melissa

"My husband and I took the personality snapshots from Ashley when we kept having issues communicating with each other. They helped us see why we sometimes misunderstood each other and how we react negatively or positively to certain situations that come up in everyday family settings. The personality snapshots were great in that we received clarification on the profiles from Ashley highlighting our key strengths and weaknesses in our specific personality style. I would love to get one for my oldest daughter now that I have seen how much it's helped myself and my husband." ~ Daphne
What do you believe is the greatest challenge to overcome in starting an independent coaching practice or a career as a coach?
Ha - so much of this has to do with what personality style you are!
I do a DISC 101 session with all of the coaches in our Coaching Mastery Program with 48 Days to ensure they understand their own personality styles and how to utilize this in their business. We hone in on what these struggle points may be that holds someone back, and we look at clear action steps to help them through what their potential roadblocks may be.
High "D"-s often struggle with having such a big vision, they barrel forward with a "ready, fire, aim" approach. In their impatience to get things done, they are likely to say "it's easier to just do it myself than tell someone else how to", so they can risk burnout quickly from taking it all on.
A high "I" may go crazy with ideas, yet struggle with implementation and staying on task. Without a clear timeline and agenda, days and weeks can pass with a lot of activity yet little accomplishment.
An "S" personality style may struggle with marketing and sales, having a hard time getting out there and making cold calls, asking for payment, and having confidence in their coaching abilities.
And a "C" can get stuck in paralysis by analysis, gathering so much information they never actually launch. You can get stuck spending so much time working ON your business, you never actually get into the business!
I think we all have our challenges, and these are often based on what our personality style struggles in most. And this is where my tagline, "The uniqueness in each of us strengthens all of us" really plays in. Even a "solopreneur" is really not on their own. There is power in collaboration. Focus on your strengths, and outsource those areas you struggle with. This will help you and your business thrive, plus empower others to step up and shine their own light. It's a synergistic approach for success that creates a ripple effect.
Please, provide a piece of advice or tip for other coaches that you've learned along the way.
When you are overwhelmed, take a deep breath, a step back, and do a brain dump. Get it out of your head so you stop carrying around the weight of it all. Talk it out, write it out, run it out. Clear the clutter from your mind...and then choose ONE thing. Just one thing. It helps to break things down, gives you a feeling of accomplishment for getting something checked off the list, and helps to keep you focused.
Remember that "Even the biggest businesses were still built one step at a time. "
To learn more about Ashley, click on the banner on the top.