Eric Konovalov, B2B and Leadership Coach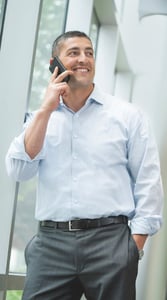 Eric Konovalov is a B2B Sales and Leadership Coach. His passion is to help entrepreneurs and sales professionals uncover their blind spots, increase self-awareness, and grow their business to the next level.
What is your coaching niche? What area are you most passionate about and/or feel you can make the most contribution to?
My coaching niche is Sales and Leadership. I believe both sales and leadership can be defined by one word - influence. Therefore, by helping my clients increase their influence, they significantly improve their leadership and sales abilities.
My passion is to help people uncover their blind spots as they pertain to human interaction and get them to raise their awareness of seeing and feeling things from the other person's perspective.
How has your past life in business, parenting, marriage, and life-learning prepared you for your coaching career?
My past life in business helped me realize that I had to learn how to coach. Being a prior service Marine, I thought leadership and coaching were positional and authoritative. That approach yielded terrible results in my relationships and caused very high turnover within my teams. It made me realize how important a coaching certification would be for me, and that's why I decided to pursue a career as a coach. After becoming certified, everything changed. The people who wanted nothing to do with me became close friends, and I was able to understand their challenges on an entirely new level. Then it evolved to helping people achieve their personal and professional goals, which really added meaning to my life. I owe it all to coaching!
How do you use Behavioral Analysis in your coaching?
Behavioral Analysis through DISC is a game-changer for me! I use it to train and onboard new clients. I review their strengths with them and help them understand why they do some of the things they do and how to best communicate with other people in their lives. I've seen it help spouses improve their relationships, sales teams grow their sales, and it helped me increase my self-awareness.
What do you believe is the greatest challenge to overcome in starting an independent coaching practice or career as a coach?
I believe the greatest challenge is being able to sell your services. Coaches must get great at adding value through public speaking, social media channels, and writing, to attract people to them instead of selling people on why they may need coaching services.
Please provide a piece of advice or tip for other coaches that you've learned along the way.
People will not trust a coach who doesn't have their own coach. Be sure to hire a coach for yourself!
Connect with Eric on LinkedIn.